WORSHIP AT ZION

Regular Sunday Worship Schedule
8:00 AM Traditional
This service makes use of the vast tradition of Christian hymnody and liturgical worship. Service music is led by the organ. The Choir regularly provides special music to enhance the worship experience. Holy Communion is celebrated weekly with the sacrament served around the altar rail on the first Sunday of each month. Following this service, please join us in the narthex for refreshments and conversation!
10:30 AM Contemporary
This service makes use of both familiar Christian hymns and contemporary Christian music. The music is led by a praise band and worship leaders. Holy Communion is celebrated weekly. Words for the spoken or sung parts of the service will be projected on the video screen, on an insert in your bulletin, or when noted, in the Blue Book or hymnal found in the pew rack.
Communion: All baptized Christians are welcome to partake of the Holy Sacrament. Those who do not, or prefer not to, partake in the sacrament may come forward and receive a blessing. If you are unable to come forward, please inform one of the ushers and communion will be brought to you in your seat. You are welcome to come to the railing for a time of mediation and prayer after receiving the elements. Gluten-free wafers are available upon request.
Restrooms are located near each entrance to the worship area. A baby changing station is in the childcare room next to the restrooms in the back hallway.
Hearing aid devices are available on the table in the entrance hall.
Prayer Request Cards in the pew racks may be filled out during the gathering portion of the service. Pass the cards to the person at the end of the pew on the side aisle for ushers to pick up and give to the pastor. The prayers will then be included during the prayer time later in the service.
Children are welcome as active participants in worship. Both services include a Children's Chat, and activity books are available at the "Children's Corner" in the back of the worship area.
The nursery room is available if you would like to use that child-friendly space during worship. When there is no attendant, you must stay and supervise your child. Parents may also use the Parlor as a "cry room" and they will still be able hear the service.
Ushers are located near the back of the worship area to assist you with any other needs or concerns you may have.
NEW ARTICLE: LIVING IN THE WORD Click here for the complete article from the April 2018 Zion News.
WANT TO BE A SUNDAY SERVANT? Click here to find out how to get involved in the worship ministries of Zion. (Still under construction.)
WHY DO LUTHERANS WORSHIP THE WAY THEY DO? Click here for a series of articles on the history of Lutheran worship.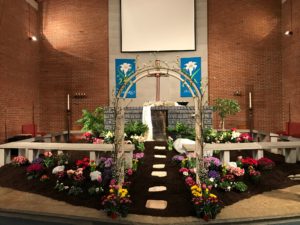 Easter Living Garden