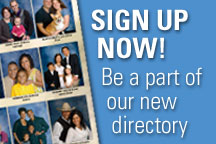 Tues., Dec. 27 & Wed., Dec. 28 from 1-8 PM
Schedule now to get the time you want!
Our goal is to get 50 Zion families photographed for the 2017 directory!
Get a free 8×10 as well as promotional rates on other additional packages or individual photos.
Plus, invite your friends and relatives to get their pictures taken too…they will get the promotional rates and a free 8×10 as well!
Follow the link and directions to schedule: