Stephen Ministries at Zion celebrates its 4th year!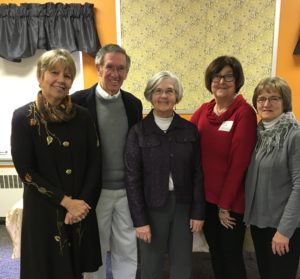 Calling Caring Christians: Zion needs you!
Want to know more about Stephen Ministries?
Interested in what a Stephen Minister does?
S
tephen Ministries Information Session, June 14, 2017, 7:00 p.m.
Zion Stephen Ministries was formed in 2013 after three members of the congregation (Mary Grzybowski, Tom Grzyboski, Judy Traup) and Pastor JMe attended Stephen Leader training in Pittsburgh, PA. Since then, we have added three more Stephen Ministers who are serving in this very special Christian caring ministry. Zion's Stephen Leaders are: Judy Traup and Pastor JMe.
Our Stephen Minister currently serving is: Linda Bear.
What is a Stephen Minister? A Stephen Minister is…
+a child of God who walks beside a hurting person;+a caring Christian who really listens;
+a member of our congregation who has received 50 hours of training in how to provide distinctively Christian care;
+a person who is ready to focus on your needs;
+a trustworthy confidante who will keep everything you say—and even your identity—confidential; and
+someone who will faithfully meet with you on a weekly basis for as long as your need persists.
A Stephen Minister is NOT…
+a counselor or therapist;
+a problem-solver;
+someone who runs errands or helps with chores; or
+a casual visitor.
Stephen Ministry is NOT a "Support Group" experience.
A Zion Stephen Minister has received 50+ hours of intensive and specialized training in listening and caring skills using the Stephen Ministries International system of Christian caregiving. He or she enters a one-to-one relationship with a person only by the invitation and agreement of that individual (the care receiver). Situations where a Stephen Minister may be helpful include: grief and loss, separation and divorce, empty nest, extended illness or difficult diagnosis, preparing for marriage, preparing for or experiencing life with a new child, etc.. Stephen Ministers are not prepared or trained to provide care for those suffering with mental illness, substance abuse issues, or dementia.
Are you experiencing life events that are troubling you, causing you to question God's love for you, and you would appreciate a Christian care giver to come alongside you and accompany you through this time? Consider inviting a Stephen Minister into your life.
Conversations with your Stephen MInister are strictly confidential. The only time our ministers talk about their care giving experiences with their care receivers is during the monthly Supervision Sessions, when the Stephen Leaders provide guidance and support for our ministers with no individual names being mentioned. These supervisory sessions are means to insure that Zion's Stephen Ministries is providing the most effective caring ministry possible and to provide ongoing training and spiritual support for our Stephen Ministers as they care for others.
Want to know more about receiving care from a Stephen Minister? Do you feel called to a ministry of Christian caring?
Contact Pastor JMe or Judy Traup (717-898-0625 or traup201@comcast.net )
For more information about Stephen Minsitries International, click this link